The Ragdolls of the World Collection celebrates diversity with cultural icons in the form of cute, cuddly ragdolls. These dolls and their clothes are designed and handmade by me to have individual quirks and personalities, making them ideal companions for girls and boys of all ages!
All currently-available products will be posted in the THS STORE.
1: KHAKI RAGDOLLS
1. Aurelie
(Original Character commissioned and owned by Danielle-chan! Doll/dress design and construction by Tamara Henson.)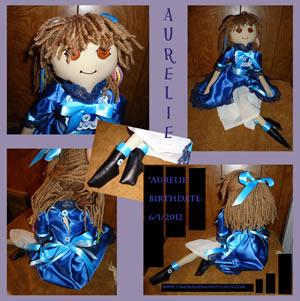 2. Asuna
(Prototype Khaki Ragdoll inspired by Asuna from Negima! She's almost ready for adoption!)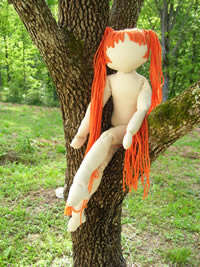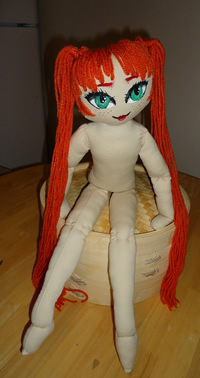 2: MINI-ROTW-- Keychain or magnet mini-dolls modeled after your characters/ideas (if you order a custom item) or mine, PLUS special cute historical figure designs. May include hand-sculpted polymer clay accessories.
3: SERIES ONE: THE HERITAGE COLLECTION
These little darlings are the first I have created for the Ragdolls of the World Collection. Each Heritage Collection doll represents one of my closest friends. All these people are from places with culture steeped in traditional arts in and around Kentucky.
Tama is a serious little girl who spends her days drawing and making lists of her dreams. She likes puppies and kitties and horses and fishies. But most of all, she loves storytime with her Grandpa!

Tama has green button eyes and dark brown hair. She wears her favorite purple sundress with a green ribbon sash!

Bandon is a happy little boy who likes hugs, sleeping late and playing video games. His favorite friend is Tama, who Bandon says he's gonna marry when he gets all grown up!

Bandon has dark green button eyes and light brown hair. He wears his best bibbed overalls so he can carry all his treasures in the pockets!

Melly-Jane loves Kindergarten! She knows all her letters and numbers, and is the best at spelling. She can even count to 100! Don't let her smarts and pink dress fool you! Melly-Jane loves to play in the mud. She'll even touch bugs!

Melly-Jane has light blue button eyes and blonde yarn hair. She wears her favorite pink princess dress and pink ribbons tied to her pigtails.

Suzi-Su has the best imagination! She likes dragons and fairies and unicorns and mermaids and big scary leopards. She can tell great stories about magical worlds and scary places! When Tama and Melly-Jane sleep over, they can't stop giggling!

Suzi-Su has bright blue button eyes and orange-red yarn hair. She wears her favorite comfy tank top and a skirt!

Little Ry-Ry is a smart boy who likes computers almost as much as he likes playing outside. When Mom says "Time for bed!", Little Ry-Ry always needs five more minutes to play!

Little Ry-Ry has black yarn hair and brown button eyes. He wears knickers and suspenders, his favorite playtime clothes!